Measuring the Impacts of Climate Change on North Carolina Coastal Resources
Okmyung Bin, East Carolina University, Chris Dumas, University of North Carolina at Wilmington; Ben Poulter, Duke University and Potsdam Institute for Climate Impact Research; and John Whitehead, Appalachian State University
Global warming is projected to have significant impacts on North Carolina coastal resources as sea level rises and hurricanes become more intense. Extensive development in the coastal zone in recent decades has put more people and property at risk for these impacts. In this context, a scientific study was undertaken by researchers at four North Carolina universities to consider three important aspects of the coastal economy and their vulnerability to a changing climate: the impacts of sea-level rise on the coastal real estate market, the impacts of sea-level rise on coastal recreation and tourism, and the impacts of stronger tropical storms and hurricanes on business activity.

The study used a range of moderate assumptions, not best- or worst-case scenarios. Its focus was only the specific economic impacts mentioned above, and as such, it does not attempt to provide a comprehensive analysis of all potential impacts, such as the possible loss of species or the natural ecosystems in which they live.
This research was supported by a grant from the National Commission for Energy Policy.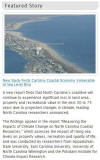 External Links
Downloads
---